Munich is famous for its beer gardens all over Germany and the world. Whether in Asia, the USA or Southern Europe, one of the few German words that is understood almost everywhere is "Biergarten".
Munich's beer gardens have an old tradition. Many of the old customs and rules have survived to this day. For example, you can still bring your own food in most beer gardens. The cool beer is then bought in the beer garden. This makes a beer garden excursion affordable for almost everyone. The self-catering, the so-called Brotzeit in Bavaria, often consists of sausage, cheese, radishes or radish and bread.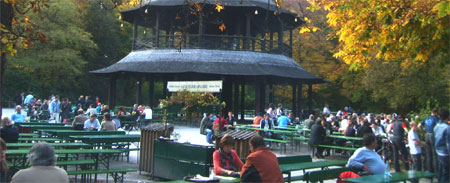 Self-service is also traditionally typical. Sometimes there are two counters, one for the food, the other for the drinks. Beer is usually ordered in a liter jug (Mass). In many beer gardens, however, there are also half-litres available for less drinking-loving fellow citizens nowadays. However, almost every Munich inhabitant drinks one or more measures. Beer is almost always only served by one brewery. Almost all beer gardens belong to one of the six big Munich breweries.
Day excursion from Munich
to Castle Neuschwanstein
There are great day tours by bus to the world famous Neuschwanstein Castle from Munich. The best tour also stops at other famous places in the area like Linderhof.
There is also food in the beer gardens. Mostly Bavarian cuisine is offered, but meanwhile there are also beer gardens with e.g. Greek or Yugoslavian cuisine. Typical Bavarian beer garden food is for example Leberkäse (Leberkas), knuckle of pork (Schweinshaxn), half a chicken (Hendl), bratwurst with sauerkraut (Schweinsbratwürscht) and Obatzda (dressed camembert with onion and chives). Very good is also the popular Steckerlfisch (whole fish grilled on charcoal and sold by weight), which smells good from a long distance.
Unfortunately, prices have risen considerably in recent years. The measure costs between 6 and 8€. A main meal under 10 € is hardly available anymore. Nevertheless the beer gardens are well visited in summer. According to an ordinance, all beer gardens have had to close between 22-23 o'clock for some years now. There are hardly any exceptions.
In a typical Bavarian beer garden you sit under chestnuts, the ground often consists of gravel
Hirschgarten: With about 8000 seats this is supposed to be the biggest beer garden in the world. A classic beer garden with high trees in a park with game reserve (deer and roe deer). The beer prices are ok, but other things are at least in the middle price range. Good food, especially the meat dishes from the in-house butchery. Self-catering allowed, brewery is Augustiner. Arrival with the S-Bahn stop Hirschgarten (10 min walk) or tram Romanplatz. Quite far from the center of Munich, but easy to reach by S-Bahn, only 3 stops from the main station. Several S-Bahn lines go to the Hirschgarten stop.
Viktualienmarkt-Biergarten: This restaurant is right in the center, five minutes walk from Marienplatz. Actually it is not a real beer garden, as it is located on a square and not in a garden.
Schlemmer-Tour Viktualienmarkt Munich
A very popular guided tour in Munich is the gourmet tour over the famous Viktualienmarkt in the city centre. Duration of the market tour about 2 hours, you can try many things for free: Sausage, cheese, fruits and many Bavarian specialities. Well done, entertaining and informative. Our recommendation. 
Special feature: Different beer every day in change (Löwenbräu, Paulaner, Hacker-Pschorr, Spaten, Augustiner, Hofbräu). Closed on Sundays, self-catering allowed.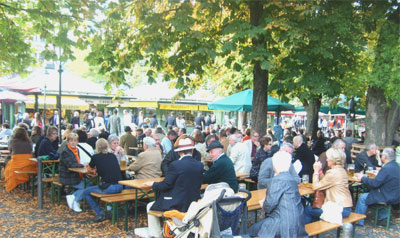 Augustinerkeller: Urbayerische Wirtshaus with large beer garden (over 5,000 seats). One of the biggest and most beautiful beer gardens, many tourists, bring your own food ok. S-Bahn Hackerbrücke or 15 min walk from the main station to the west. On very warm evenings often very full.
Rosengarten: Very beautifully situated in a park, great view. The Rosengarten was created about 20 years ago for the international garden exhibition. The medium sized beer garden is served Paulaner, prices have increased a bit in the last years, but still recommendable. U6 stop Holzapfelkreuth, then about 500 meters on foot.
The following four beer gardens are all located in the English Garden, the largest city park in Munich:
Chinese Tower: Perhaps the most famous beer garden in Munich, very many tourists also from North America and Japan. The second largest beer garden in Munich has become somewhat commercial. Higher prices, but still within limits. Schankbier is Hofbräu, parking spaces with costs, self-catering allowed.
Seehaus: Slightly more noble beer garden with Paulaner beer further north of the English Garden. Good food, top view directly at a lake. A dream on a warm March day, when the lake is still frozen over and the first flowers are blooming. Bringing your own food is also tolerated here, good menu. The Seehaus has slightly higher prices, but therefore top quality.
Hirschgarten: This is our secret tip. Classic beer garden, less known than the others in the English Garden – therefore many Munich residents and few tourists. A bit cheaper than the others in the area, 1500 seats, good food, Spatenbier and Franziskaner-Weißbier (wheat beer). Directions: Subway line 6 northbound: Stop Dietlindenstraße
Aumeister: This beer garden is further north near the student city. You can ideally reach it by bicycle. Good Bavarian food, large portions, medium prices. After a long walk from the city centre through the whole English Garden (about 6-7 km!) many hikers arrive here thirsty. Own bread time is fine here as well. Arrival by public transport: subway line 6 stop Studentenstadt, from there it is a quarter of an hour walk.