The Feldherrnhalle is a large monument on Odeonsplatz in Munich. It was built by Friedrich von Gärtner 1841-1844 by order of King Ludwig I. The hall is, as can be read on an inscription, "dedicated to the brave Bavarian army in gratitude and recognition". The model for the building on Odeon Square was the Loggia dei Lanzi in central Florence, which was built in the 14th century.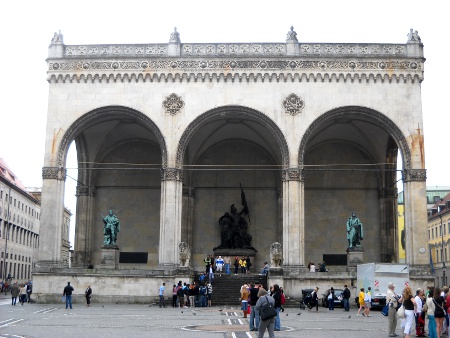 The Feldherrnhalle is the impressive southern end of Ludwigstraße. The largest monument is located in the central interior of the Feldherrnhalle and is the so-called Bavarian Army Monument. It was designed by Ferdinand von Miller only at the end of the 19th century.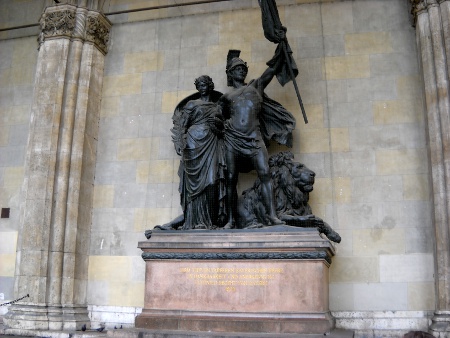 On the left and right side of the Feldherrnhalle are two green bronze statues representing General Tilly and General Werde. Both were important Bavarian military leaders: Tilly at the beginning of the 17th century during the Thirty Years' War, and Prince Werde at the beginning of the 19th century during the Napoleonic era.
Tilly monument in front of the Feldherrnhalle
The two monumental lions at the staircase are also interesting. The so-called Stone Lions were only erected by a sculptor named Wilhelm von Rümann in 1906.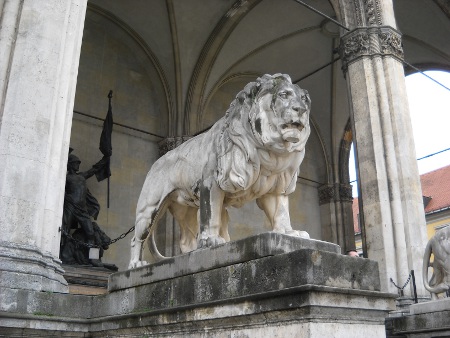 Hitler's attempted coup d'état on 9 November 1923 was bloodily crushed in front of the Feldherrnhalle. An inscription on the floor of the Feldherrnhalle commemorates the four policemen who were killed. After Hitler's seizure of power over Germany in 1933, the Army Monument on Odeonsplatz became a National Socialist cult object. The Nazi changes to the Feldherrnhalle were reversed after 1945.
Our tip:

Sightseeing tour through Munich
A great possibility to see a lot of Munich in 1-2 days are the so called

Hop On / Hop off buses

. These are red double-decker buses in British style, which drive on 3 different routes through Munich. You can get off at many stops and continue with a later bus. Tickets for the hop on / hop off buses are much cheaper on the Internet at Getyourguide than on site.

More information

: Click here
Entrance fee and opening hours Feldherrnhalle: The monument is open to the public day and night and costs no entrance fee
Directions to the Feldherrnhalle: Underground: U3, U4, U5, U6 stop Odeonsplatz, Bus: Museum bus line 100 also Odeonsplatz. The Feldherrnhalle can be easily reached on foot from downtown Munich. One of the central pedestrian zones, Theatinerstraße, begins behind the monument. Here one finds especially many luxury shops. The center of Munich, Marienplatz, is about one kilometer away from the Feldherrnhalle. The whole way is in the pedestrian zones of the city centre. In the immediate vicinity of the hall is the Munich Residenz. If you walk north from the hall, you will reach the University (LMU) and the Siegestor Munich after a few minutes.
Our tip:

Sightseeing tour through Munich
A great possibility to see a lot of Munich in 1-2 days are the so called

Hop On / Hop off buses

. These are red double-decker buses in British style, which drive on 3 different routes through Munich. You can get off at many stops and continue with a later bus. Tickets for the hop on / hop off buses are much cheaper on the Internet at Getyourguide than on site.

More information

: Click here