A Glyptothek is a museum for historical sculptures. There are only a few glyptotheques in the world, the Glyptothek in Munich is the only one in Germany. In the Munich Glyptothek, stone sculptures from ancient Greek and Roman times are on display. The museum is a mighty building based on the ancient world. It was built around 1820 by Leo von Krenze. In the 2nd world war the Glyptothek was almost completely destroyed. It was rebuilt late (reopening in 1972).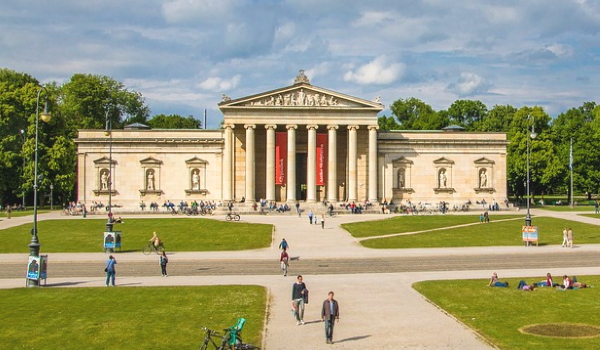 The sculptures are mostly life-size. The most important stone figures in the Glyptothek are the gable figures from the Temple of Aphaia in Aegina (Greece), the so-called Aginents.
Opening hours of the Glyptothek 2020
Monday is closed, Tuesday and Wednesdays 10am to 5pm. On Sundays the Glyptothek in Munich is open from 10 a.m. to 6 p.m., on Fridays from 10 a.m. to 7 p.m. and on Thursdays the longest opening hours are from 10 a.m. to 8 p.m.
In 2020 the Glyptothek Munich will be closed for a long time due to renovation.
Admission prices of the Glyptothek 2020
Adults pay €6 admission, reduced admission €4. (Status: beginning of 2020).
Important: On Sunday, as in many museums in Munich, you only pay a symbolic entrance fee of 1€. Children under 18 years of age have free admission to the Glyptothek Munich every day of the week.
Our tip:

Sightseeing tour through Munich
A great possibility to see a lot of Munich in 1-2 days are the so called

Hop On / Hop off buses

. These are red double-decker buses in British style, which drive on 3 different routes through Munich. You can get off at many stops and continue with a later bus. Tickets for the hop on / hop off buses are much cheaper on the Internet at Getyourguide than on site.

Further information

:  Click here
Address
Königsplatz 3, 80333 Munich, Tel.: 089-286100
The Glyptothek Munich on the city map
The exhibition for antique stone sculptures is located directly at the Königsplatz, about one kilometre north of the central station.
Approach
The Glyptothek is located directly at Königsplatz (underground line 2). From the main station it is about 15 minutes walk (or 3 minutes with the subway line 2). No parking spaces, Park + Ride is recommended.
Other well-known Glyptothekes can be found for example in Copenhagen, Vienna and Athens. The great art museum Lenbachhaus is not far away.