State Theatre at the Gärtnerplatz
Nowadays, the Staatstheater am Gärtnerplatz mainly performs operas. The Gärtnerplatztheater was built around 1870 by order of the Bavarian King Ludwig II. It was very popular as a theatre for ordinary citizens in the early days. In the 30s operettas were performed, also Adolf Hitler was in the audience several times during his Munich time. After the war until today the Theater am Gärtnerplatz mainly played operas. Today it is the second most important opera house in Munich after the Bavarian State Opera.
The worth seeing, late classicistic architecture of the State Theater from the late 19th century fits to Munich. The large hall seats almost 1000 spectators. It is not unusual for the seats to be full. Today, besides classical operas, operettas, musicals and fairy tales are often performed.
The prices for tickets at the Theater am Gärtnerplatz depend very much on the rank (the position in the hall) and the performed piece. The few standing places cost between 3-10 Euros, the best places, depending on the performance, cost between 20 and 100 Euros. For most performances, seats with a good view of the stage are available for 20-30 euros. A visit to the theatre at Gärtnerplatz is therefore comparatively inexpensive by Munich standards.
Gärtnerplatz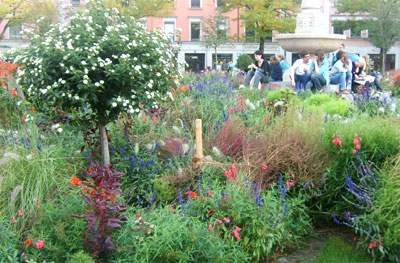 The Gärtnerplatz is the place of flowers in Munich. Within the roundabout around the square, flowers bloom close together. This is one of the reasons why the Gärtnerplatz is very popular with locals and tourists. Due to its central location in Munich, it is also known for night parties and meeting point of young people on warm days, which of course makes the residents less happy. The square is not called Gärtnerplatz, as many people think in Munich, because of its many flowers. Like the Theater am Gärtnerplatz, it is named after the Munich architect Friedrich von Gärtner.
Directions to Gärtnerplatz: The nearest underground station from Gärtnerplatz is Frauenhoferstraße station (U1 and U2). However, the square is very central. It can be reached on foot in 10 minutes from Marienplatz and is not far from the Viktualienmarkt food market.