Munich is the most important museum city in Germany next to Berlin. There are many large world-famous museums such as the Deutsches Museum or the Pinakothek der Moderne. In addition, Munich also has many small and interesting museums, which are somewhat lost in the shadow of the museums of the world. I have tried to make a list of all important museums in Munich. The information also includes opening hours and entrance fees.
Art museums in Munich
Pinakothek der Moderne
The Pinakothek der Moderne has only existed since 2002 and is the new superstar among Munich's museums. For further information see here: Pinakothek Moderne
---
---
New Pinacotheca
Large museum of art from the period between 1700 and 1900 not far from the other two Pinakotheken. Click here for more information
Day excursion from Munich
to Castle Neuschwanstein
There are great day tours by bus to the world famous Neuschwanstein Castle from Munich. The best tour also stops at other famous places in the area like Linderhof.
Old Pinacotheca
One of the most important art museums in the world for art from the period between 1300 and 1700. information: Alte Pinakothek Munich

---
Glyptothek
A Glyptothek is a museum for sculptures (stone figures) from the Greek and Roman times. One of the few museums of this kind worldwide is in Munich. More here: Glyptothek in Munich
Munich city tour on the subject of the Third Reich
From our point of view a well done and interesting city tour: Munich was the beginning of the Nazis, Adolf Hitler lived in the city for many years. Munich is known for the resistance of the White Rose group. At the end of the war the city lay in ruins. Start of the tour at Marienplatz, guided tour on foot, duration about 2.5 hours.
Gallery Lenbachhaus
Well-known art gallery of the city of Munich especially with works of the artist group Blaue Reiter in the northern centre of the Bavarian capital: More information
Schack Gallery
The important private art collection of Adolf Friedrich von Schack (1815 – 1894) is today part of the Bayerische Staatsgemäldesammlung. It mainly exhibits paintings from the 19th century (e.g. Spitzweg, Feuerback, Lenbach and Böcklin). The building is located next to the Bavarian National Museum.
Address Schack-Galerie: Prinzregentenstraße 9, 80538 Munich
Directions to the Schack-Galerie: U4 and U5 stop Lehel (10 min walk away) or directly in front of the entrance Tram 17 stop "National Museum
Opening hours Schack-Galerie: Wed – Sun 10am – 6pm, closed on Monday and Tuesday
Admission price Schack-Galerie: adults pay 4 euros, Sundays only 1€, reduced rate 3.00€ (as of the beginning of 2017)
---
Natural Science and Technical Museums Munich
German Museum
One of the most famous and largest museums in Germany is the Deutsches Museum, a museum of technology. It is still the most important museum in Bavaria next to the Pinakothek der Moderne.
Museum of Ethnology
The Ethnological Museum Munich is one of the largest museums of ethnology (culture of non-European peoples) in Europe. More Info: Museum 5 Continents Munich
BMW Museum
For fans of Bavarian cars, a visit to the BMW Museum can be a highlight of a city trip to Munich. The museum has been thoroughly renovated in recent years and reopened in 2008, one year after the futuristic and gigantic new building, the BMW Welt. Of course, it is mainly vehicles of the BMW brand from the beginnings until today that are presented in an impressive way: The BMW Museum is considered one of the best automobile museums in the world. With around 400,000 visitors per year, the BMW Museum is the most visited museum in Munich, behind the Deutsches Museum.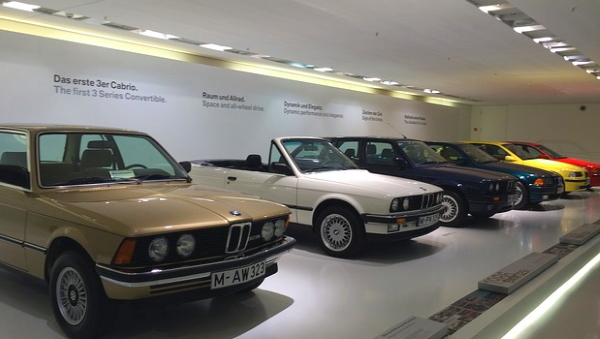 Address BMW Museum: Am Olympiapark 2, 80809 Munich
Directions BMW Museum: U3 Olympiazentrum, various bus lines Olympiazentrum
Opening hours BMW Museum 2023: Tuesday-Sunday and public holidays 10am-6pm, closed on Mondays
Admission price BMW Museum 2023: Adults 10 € admission, reduced as pensioners and students and children 7 €, families with up to 3 children under 18 years pay a maximum of 24 € admission. The admission fee has not been increased for several years!
German Alpine Museum
The German Alpine Museum is located north of the Deutsches Museum on an island – the Praterinsel. Scientific instruments and equipment for mountaineers, information about the German Alpine Association, pictures from the mountains and much more – often also special exhibitions worth seeing. The visit is actually a must for every hobby mountaineer.
Address German Alpine Museum: Praterinsel 5, 80538 Munich
Directions Deutsches Alpines Museum: Tram 17 Mariannenplatz, S-Bahn Isartor or on foot from the centre
Opening hours Deutsches Alpines Museum 2023: Saturday, Sunday and public holidays 11am – 6pm, Tue – Fri 1pm – 6pm, Monday closed (status year 2023)
Entrance fee German Alpine Museum 2023: adults 6 Euro, DAV members and reduced 4€, children 1 € (under 7 years free). The prices are from the year 2023 and have not been increased for a long time. (DAV = German Alpine Association)
Museum Man and Nature
The Museum of Man and Nature in Nymphenburg Palace is an insider tip among Munich's museums. The development of the earth, of life and of mankind is presented. Current problems such as the destruction of the environment by man are also addressed. Schloss Nymphenburg is also home to the Marstallmuseum (carriages, horse-drawn carriages, harnesses etc.) and the Porzellanmuseum München (Munich Porcelain Museum) with many 100 objects from the world-famous Porzellanmanufaktur Nymphenburg.
Address Museum Mensch und Natur: Maria-Ward-Straße 1b, 80638 Munich
Directions to Museum Mensch und Natur: Tram (Munich for tram) 17 to the stop Schloss Nymphenburg
Opening hours 2023 Museum Mensch und Natur: Tue, Wed, Thu, Fri 10 – 17, Sat, Sun 10-18, Mon closed, Easter Monday, Whit Monday open, Christmas, New Year's Eve and New Year closed.
Entrance fees 2023 Museum Mensch und Natur: 3,50 Euro adults, reduced 2,50 Euro. On Sunday, as in many museums in Munich, the entrance fee is only 1 Euro.
Eintrittspreis Museum Mensch und Natur: Erwachsene 3,50 €, ermäßigt 2, 50 €, Kinder bis 18 Jahre Eintritt frei (im Jahr 2017)
---
German Hunting Museum and Fishery Museum
The Hunting and Fishing Museum is located right in the centre of Munich in the most important pedestrian zone between Karlsplatz (Stachus) and Marienplatz (Neuhauser Straße). From Stone Age weapons and fishing hooks to the present day, all kinds of things related to hunting and fishing are on display. Interesting are also the many stuffed animals as well as the "exhibition" of the Wolpertinger, in Bavaria very well known mythical creatures.
Address German Hunting and Fishing Museum: Neuhauser Straße 2, 80331 Munich
Directions to the German Hunting and Fishing Museum: U-Bahn / S-Bahn Karlsplatz or Marienplatz
Opening hours German Hunting Museum and Fishery Museum 2023 daily 9:30 to 17 o'clock, Thursday evening even until 21 o'clock.
Entrance fee German Hunting and Fishing Museum 2023: Adults 5 Euro, concessions 4 €, children 3-16 years 3 €, smaller children free (these entrance fees and opening hours are from 2023)
Museum Crystals
Excellent and exciting exhibition on the subject of crystals, minerals and precious stones directly behind the Alte Pinakothek. The museum is the part of the Mineralogical State Collection of Munich that is open to the public.
Address Museum Crystals: Theresienstr. 41,80333 Munich
Directions to Museum Reich der Kristalle: Tram 27 or bus 100 stop "Pinakotheken" or U2 Theresienstrasse (10 min walk) or on foot from the main station or Marienplatz (20 minutes each)
Opening hours Museum Crystals 2023: 13 – 17 h, closed on Mondays
Entrance fee Museum Reich der Kristalle 2023: 5 € adults or 3 € reduced.
---
Potato Museum Munich
Small museum near Munich's Ostbahnhof with free admission on the subject of potatoes. Focal points include potatoes as a cultural asset and potatoes in art.
Address Potato Museum Munich: Grafinger Straße 2, 81671 Munich
Directions to the Kartoffel Museum Munich: All S-Bahn lines and the U5 with the stop Ostbahnhof
Opening Hours Kartoffel Museum Munich: Only Friday (9-18 h) and Saturday (11 – 17 h)
Entrance fee Kartoffel Museum Munich: The entrance is free of charge
---
Other museums in Munich
Residence Museum
The Residenz is the largest city palace in Germany. About 130 castle rooms can be visited. Here you can also see some important collections like the porcelain collection or the silver collection. Also in the Residenz are the Munich State Coin Collection and the State Museum of Egyptian Art. More information about the Munich Residenz.
---
Bayerische Nationalmuseum
In the Prinzregentenstraße large, important collection on Bavarian art and traditional cultural assets such as clothing, porcelain, musical instruments and much more. Equally large collection of sculptures from Germany. The largest collection of nativity scenes in the world is also very popular with visitors.
Munich City Museum
Worth seeing and large museum about the city of Munich.
Some permanent special exhibitions:
– National Socialism in Munich – Ciphers of Memory
– Photography Collection
– Collection puppet theatre / showmanship
– Collection Music.
Address Munich City Museum: St.-Jakobs-Platz 1, 80331 Munich
Directions to the Munich City Museum: Underground / S-Bahn Marienplatz or U-Bahn Sendlinger Tor and 5-10 min on foot
Opening hours Munich City Museum 2017: daily except Monday 10 a.m. – 6 p.m.
Admission price Munich City Museum: 7 € adults, reduced rate 3,50 €, persons under 18 years have free admission.  These prices refer to the permanent exhibitions and are from 2017.
Munich Beer Museum and Oktoberfest Museum
Interesting museum about the Oktoberfest and beer. The Oktoberfest museum is located in the centre east of the Marienplatz "Im Tal".
Address Oktoberfest Museum: Sterneckerstraße 2, 80331 Munich
Approach Oktoberfest Museum: Next S-Bahn: Isartor – also Marienplatz is only 10 min walking distance
Opening hours Oktoberfest Museum in 2017: 13-17 h (Sunday and Monday closed)
Entrance fee Oktoberfest Museum 2017: 4 € adults, reduced 2,50 €, groups 3 € per person (from 6 persons), great is that families with children pay a maximum of 6 euros.
German Theatre Museum
The history of the theatre from its beginnings to the present is presented. The museum is located in the Hofgarten not far from the centre and houses one of the largest collections on theatre in Europe. For example, costumes and stage sets are on display.
Address German Theatre Museum: Galeriestr. 4a, 80539 Munich
Directions German Theatre Museum: U3, U4, U5 and U6 Odeonsplatz
Opening hours German Theatre Museum 2023: daily except Monday 10 am – 4 pm
Entrance fee German Theatre Museum 2023: adults 5€
Munich Toy Museum
Nice museum in the tower of the old city hall of Munich directly in the center of the city. A must for adult fans of toys and very interesting for children. On display are wooden toys, dolls, technical toys and much more.
Toy museum address: Marienplatz: In the old town hall tower
Directions to the toy museum: U3 and U6 Marienplatz as well as all S-Bahn lines "Marienplatz" station.
Toy Museum 2023 opening hours: daily 10 – 17:30
Toy museum admission fee: adults 6€, children 2€, families max. 12 € (in 2023)
Valetin Musäum
The museum is all about humour, as the deliberate spelling mistake in the name and the opening hours already show. Many funny exhibits on the comedian and cabaret artist Karl Valentin (1882 – 1948), who was very popular in Munich, as well as changing special exhibitions. The Valentin Museum is located in Isartor, a central city gate of Munich.
Address Valetin Musäum: Isartor, 80331 Munich
Directions Valetin Musäum: S-Bahn all lines stop Isartor
Opening hours Valetin Musuum 2023: daily 11:01-16:59 ; , Wednesday at
Entrance fee Valetin Musuum: Adults 2019: 2,99 Euro ; Children, pupils, students: 1,99 Euro. Family tickets are available for 6,99 Euro.
White Rose Memorial
The exhibition on the subject of the White Rose, the well-known resistance group in the Nazi era to which Hans and Sophie Scholl belonged, among others, is in the main building of the LMU (Ludwig-Maximilian University) in Schwabing. In front of this building, the siblings were arrested after distributing leaflets against the Hitler regime. Permanent exhibition with exhibits, photos and background information about the White Rose and the resistance in the 3rd Reich.
Address Weisse Rose Memorial: Geschwister-Scholl-Platz 1, 80539 Munich
Directions to the White Rose Memorial : U3 University
Opening hours White Rose Memorial: Monday – Friday 10 – 17 o'clock ; Saturday 10:30 to 16 o'clock (in 2017)
Entrance fee White Rose exhibition: free admission
---
(Status of information 2017, partly updated 2020 ans 2023, some of the data is older)