The Neue Pinakothek was commissioned by the Bavarian King Ludwig I in 1853. The gallery was the first museum of modern art in the world. In the 2nd World War the Neue Pinakothek was completely destroyed in air raids. Only 1976-1981 the museum was rebuilt.
The paintings on display in the Kunstmuseum Neue Pinakothek date from the period 1700-1900, while the Alte Pinakothek and Museum Pinokothek der Moderne, which are located in the neighbourhood, exhibit works of art from earlier or later periods.
Among the world-famous artists whose paintings are exhibited in the Neue Pinakothek are Vincent van Gogh, Claude Monet, Carl Spitzweg, Caspar David Friedrich, Francisco de Goya, Edouard Manet, Paul Gauguin and many more. The Neue Pinakothek in Munich is thus one of the most important museums for painting from the 18th and 19th centuries in general.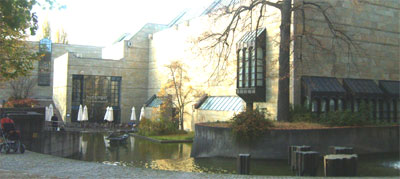 Opening hours Neue Pinakothek 2023
Thursday to Monday from 10 a.m. to 6 p.m., Tuesday the Neue Pinakothek is closed, Wednesday from 10 a.m. to 8 p.m. (thus longer in the evening). On some holidays the Kunsmuseum is closed.
Entrance fees Neue Pinakothek (in 2023)
For a museum of such a high standard, the entrance fee is not expensive: adults pay 7 euros, reduced 5 euros. As in many public museums in Munich, there are great reduced admission prices on Sundays. Then, one gets for only 1 Euro into the museum Neue Pinakothek Munich.
You can rent an audio guide in the museum, groups can book a good guided tour for about 100 Euro.
Address Neue Pinakothek
Barer Straße 29, 80799 Munich, Germany, Tel.: 089-23805195
Directions to the Neue Pinakothek
No direct subway or suburban train, but very central, a little more than one kilometer north of the main station. A little closer is the stop Theresienstraße (U-Bahn 2). Parking is not easy in the area. The bus line 100 connects the Pinakothek with the main station and the Ostbahnhof.
More great art museums:
The Uffizi Gallery in Florence: Click here
The Prado in Madrid: Click here
The Peggy Guggenheim Collection in Venice: Click here
Our tip:

Sightseeing tour through Munich
A great possibility to see a lot of Munich in 1-2 days are the so called

Hop On / Hop off buses

. These are red double-decker buses in British style, which drive on 3 different routes through Munich. You can get off at many stops and continue with a later bus. Tickets for the hop on / hop off buses are much cheaper on the Internet at Getyourguide than on site.

Further information:

  Click here