The Lenbachhaus was built around 1890 as a residence for the painter Franz von Lenbach (1836-1904). The style of an Italian country villa is reminiscent of the Baroque and Renaissance. The house stands in an interesting contrast to the other buildings around the Königsplatz, which is dominated by some large buildings in the ancient Greek architectural style.
Picture: User:Usien / CC BY-SA
Today the Lenbachhaus houses the Städtische Galerie am Lenbachhaus. The museum mainly exhibits paintings by the world-famous Munich artist group Blaue Reiter. The art nouveau works are for example by famous artists such as Wallisky Kandinsky, Paul Klee, Franz Marc, Gabriele Münter and Alexei Jawlensky.
Around the Lenbachhaus lies the most beautiful house garden of Munich with a large fountain. A well known and very good café invites you for coffee and cake. Perhaps the garden around the Lenbachhaus is the most stylish place in Munich for a cup of coffee or tea on a sunny afternoon. The benches and chairs in the garden of the Lenbachhaus are also very popular. Many Munich residents read a newspaper or book here in a pleasant and quiet atmosphere.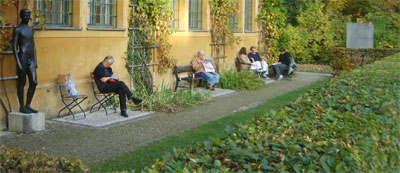 How to get there: Lenbachhaus can be reached in about 15 to 20 minutes on foot from the main railway station, or you can take the underground line 2 from the main railway station to Königsplatz. Many other art museums, such as the 3 Pinakotheken and the Glyptothek am Königsplatz, are not gone.
The gallery on the city map
The Lenbachhaus is near the Königsplatz, centrally located in Munich.
Opening hours Lenbachhaus Munich (2019): The museum is open from 10 to 18 o'clock. Monday is, as in many museums closed, Tuesday are the opening hours in the evening until 20 o'clock.
Admission 2019 Lenbachhaus Munich: The entrance fee is 10 Euro, with a reduction 5 Euro. Children (under 18 years) do not pay admission.