The Maximilianeum, located not far from the centre of Munich on the Isar, is a mighty building visible from afar. The Bavarian parliament meets in the building. Since its completion some 140 years ago, it has also been home to a foundation for highly talented students (Stiftung Maximilianeum).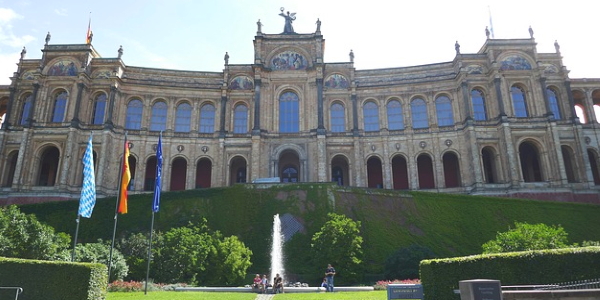 The building was constructed around 1870 by the architect Friedrich Bürklein on behalf of the Bavarian King Max II. Initially, the Maximilianeum was home to an art gallery in addition to the Foundation. The Bavarian Parliament did not move into the building, which was partially destroyed in the war and rebuilt in 1949, until after the Second World War.
Unfortunately, the Maximilianeum cannot usually be visited inside. However, you can visit the inner courtyard via the Ostpforde entrance. From time to time exhibitions are held in the building. Then parts of the building are open to the public. Admission to the Maximilianeum for exhibitions is usually free.
You can visit the Reichstag (Bundestag) in Berlin: guided tour Reichstag
Directions to Maximilianeum Munich: The U4 or U5 underground lines run every 5 minutes from Munich Central Station, Karlsplatz, Odeonsplatz to the Bavarian Parliament. From the other direction, the Maximilianeum can be reached from Munich East Station every 10 minutes. Some tram lines stop in the vicinity.
Munich city tour on the subject of the Third Reich
From our point of view a well done and interesting city tour: Munich was the beginning of the Nazis, Adolf Hitler lived in the city for many years. Munich is known for the resistance of the White Rose group. At the end of the war the city lay in ruins. Start of the tour at Marienplatz, guided tour on foot, duration about 2.5 hours.
On foot from the city centre: From the National Theatre (between Marienplatz and Odeonsplatz) walk down Maximilianstraße (towards the Isar). The Maximilianeum, on the other side of the river, can be seen from far away. Maximilianstraße is one of the most worth seeing streets in Munich with historic buildings, noble boutiques and shops of the upper class. The famous Völkerkundemuseum Munich is also located in this boulevard.