The Siegestor (Victory Gate) is a large round-arched gate, which was built around 1850 on the model of the Constantine Arch in Rome. The architect was Friedrich Gärtner, who built it by order of King Ludwig I of Bavaria. It is the northern end of Ludwigstrasse and the southern beginning of Leopoldstrasse and is thus the border of the Munich districts Maxvorstadt and Schwabing. Next to the Frauenkirche, it is the most important architectural symbol of Munich city centre. Coaches and cars used to drive through the three arches. Because of the increasing traffic, today a multi-lane road leads around the Siegestor, so that one can only go through the gate on foot.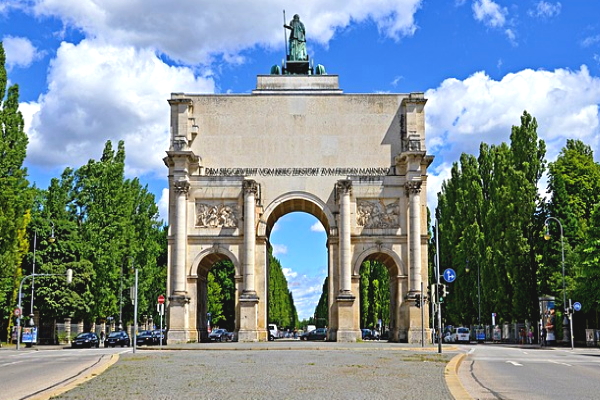 Ludwig I built the gate to honor the Bavarian army. The model for the Munich Victory Gate was the ancient Constantine's Arch in Rome from the 4th century AD, which looks very similar. With the Victory Gate he wanted to express his gratitude for the bravery and duty of his armed forces. In the upper part there is the well-known inscription: "Consecrated to victory – destroyed by war – exhorting to peace". After victories the soldiers of Bavaria walked through the victory gate in parades. High up on the gate you can see a large, well-known sculpture: the Quadriga – a four-man team of lions. The quadriga on the Victory Gate was destroyed in World War II. It was rebuilt by Elmar Dietz, a well-known sculptor from Munich, and was not placed on the gate again until 1972. Usually Quadrigas are of course horse teams, the four lions on the Victory Gate are probably quite unique. Other well-known quadrigas on gates can be found, for example, at the Arc de Triomphe du Carrousel in Paris, at the Wellington Arch in Hyde Park in London or at the Monumento a Vittorio Emanuele I in Rome.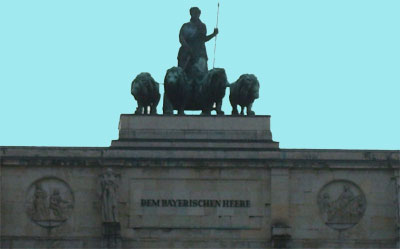 How to get to the Siegestor: By subway: U3 and U6 to U-Bahn station Universität or from Odeonsplatz about 10 minutes walk up Ludwigstraße, from the center (Marienplatz) it takes about 20 to 30 minutes. The main building of the University of Munich (LMU) is located in the immediate vicinity of the Siegestor. There you can visit the small but very interesting museum of the resistance group Weiße Rose. The Scholl brothers and sisters distributed the famous leaflets in this building for which they were executed.
Entrance fee and opening hours Victory Gate: Unfortunately, you cannot go up, but can only view the Victory Gate from the outside and below. Thus, one does not have to pay attention to the opening times or to the entrance fee.
Our tip:

Munich city tour
A great possibility to see a lot of Munich in 1-2 days are the so called

Hop On / Hop off buses

. These are red double-decker buses in British style, which drive on 3 different routes through Munich. You can get off at many stops and continue with a later bus. Tickets for the hop on / hop off buses are much cheaper on the Internet at Getyourguide than on site.  Further information:  Click here