The Hofgarten is the garden of the Residenz, the city palace of the former Bavarian kings and princes. It is a Renaissance garden in Italian style, said to be the most important one north of the Alps. The park was built in the years 1614 and 1615. In the centre is the temple of Diana by Heinrich Schön (1615).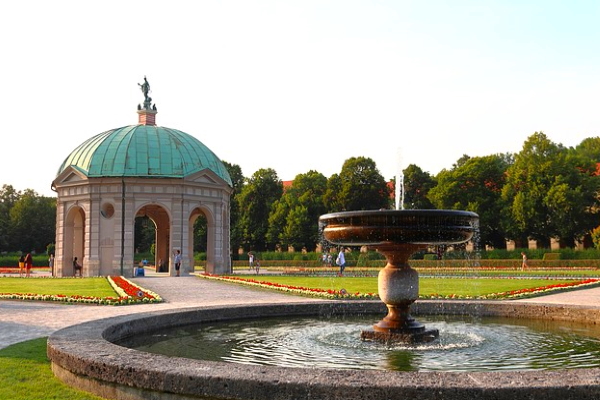 On the roof of the pavilion, in the centre of the Munich Hofgarten, there is a bronze figure, the so-called "Tellus Bavarica". It was designed by Hans Krumpper in 1623. The Tellus Bavarica shows the riches of the country in the form of symbols such as salt, animal skin and cure apple.
The palace garden in Munich has been redesigned many times during the 400 years of history. In the northern part is the interesting German Theatre Museum. Good street musicians often play in the Diana pavilion. At the western exit of the Hofgarten is a good café with a beer garden.
Schlemmer-Tour Viktualienmarkt Munich
A very popular guided tour in Munich is the gourmet tour over the famous Viktualienmarkt in the city centre. Duration of the market tour about 2 hours, you can try many things for free: Sausage, cheese, fruits and many Bavarian specialities. Well done, entertaining and informative. Our recommendation.
The Hofgarten is a popular place to stay for the many office workers in Munich's city centre, especially during their lunch break. It is a quiet place in the otherwise hectic center of Munich.
Entrance fee Hofgarten: It is a public park, the entrance is free.
Opening hours Hofgarten: The Hofgarten is not locked, so it is always open, even at night
Directions to the Hofgarten Munich: Underground: U3, U4, U5, U6 Odeonsplatz, from there only a few metres on foot in the direction of Ludwigstraße on the right-hand side. The entrance is next to the Cafe Tambosi, which can be seen from Odeonsplatz.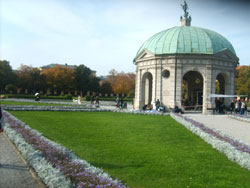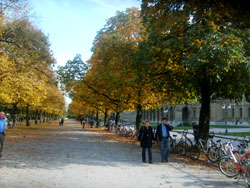 In the rear (eastern) part of the Hofgarten is the Bavarian State Chancellery (the seat of the Bavarian government). Nearby are also the Munich Feldherrnhalle and the Munich Theatiner Church.
Bavarian State Chancellery
The mixture of old and new architecture in the Bavarian State Chancellery at the Munich Hofgarten (Photo: © C. Schiller – Fotolia.com)
The Bavarian State Chancellery is the highest authority in Bavaria and supports the government and the Minister President. The building was partly newly built in the 80s and 90s (a lot of glass), but partly it was also derived from the old army museum (like the dome in the middle). The architecture of the building is controversial. Some people like the mixture of old and new elements, others do not like this unusual mix at all.
Our tip:

Sightseeing tour through Munich
A great possibility to see a lot of Munich in 1-2 days are the so called

Hop On / Hop off buses

. These are red double-decker buses in British style, which drive on 3 different routes through Munich. You can get off at many stops and continue with a later bus. Tickets for the hop on / hop off buses are much cheaper on the Internet at Getyourguide than on site.

More information

: Click here