Railway
Hardly any other city in Europe is better accessible by train. From most major cities in Germany you can reach Munich by train every hour during the day.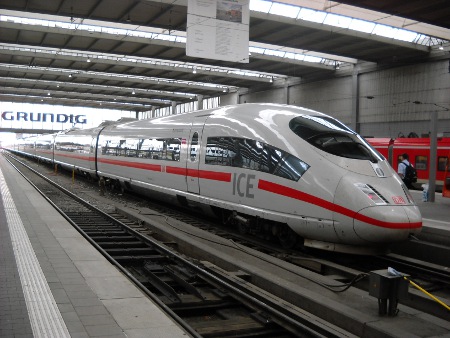 There are also night trains from Hamburg, Berlin, Dresden, Ruhr area, Amsterdam, Vienna, Zurich, Rome and Prague. Night trains can currently be a bargain: For 29 euros in a seating car or 39 euros in a couchette car, you can currently book many trains. However, only some tickets are sold for this price.
If you travel from Bavaria, you can save money with the Bayern Ticket. From about 25 Euro for 1 person, 31 Euro for 2 persons and a little more for up to 5 adults you can travel one day within Bavaria wherever you want (prices year 2017). However, on weekdays the ticket is only valid from 9 am and only on regional trains (Regionalzug and Regionalexpress). Best of all, it is also valid on all public transport in Munich and many other cities: U-Bahn, S-Bahn, tram and bus.
If you travel from other regions of Germany, you can of course buy the well-known weekend ticket. However, the journey is quite tedious, as you have to change trains often on longer distances, as you are only allowed to use regional trains.
Since a few years there are also long distance buses in Germany. Carpooling has been available for a long time.
Car
Many motorways and other roads lead to Munich. The Salzburg Autobahn is the most congested, especially during the holiday season. If you travel by car, you should consider that parking spaces in the city center of Munich are very expensive and scarce. On the outskirts of the city there are many park and ride parking lots. Here, one can quickly and easily change to the subway and S-Bahn and park for free.
Airplane
Munich Airport, with the "beautiful" name Franz-Josef-Strauß-Airport, is located far outside of Munich. There are frequent direct flights to all other German airports and to all major European airports. Two S-Bahn lines lead to the airport. A single trip for the approximately 35 km long route to the city center costs about 10 Euro. You can save money by buying a stripe ticket or a day ticket for the whole network, which is hardly more expensive than the single ticket to the city centre. The partner day ticket for two people is even cheaper than two single tickets from the airport to the city centre. There are ticket offices at the airport, but you can buy the tickets quickly and easily from the ticket machines. The ticket machines in Munich are easy to use. They accept cash (also notes) and EC cards.  There are ticket machines at practically every stop. In the tram and bus you will find simpler machines also in the vehicles. For the S-Bahn and U-Bahn you have to buy your tickets before entering the platforms. Specially in the S-Bahn, there are frequent controls; those who ride black in Munich have to expect a penalty of at least 40 euros. A taxi ride from the airport to the city costs about 70 euros and takes just as long as the S-Bahn: about 40 – 45 minutes. There is also a bus line from the airport to the city (similar prices as the S-Bahn). At night there are night buses and especially the tram. The subway and many S-Bahn lines do not run during the week from about 1am to 4.30am, on weekends the subway closes at about 2am.